Camp Flog Gnaw 2016 Review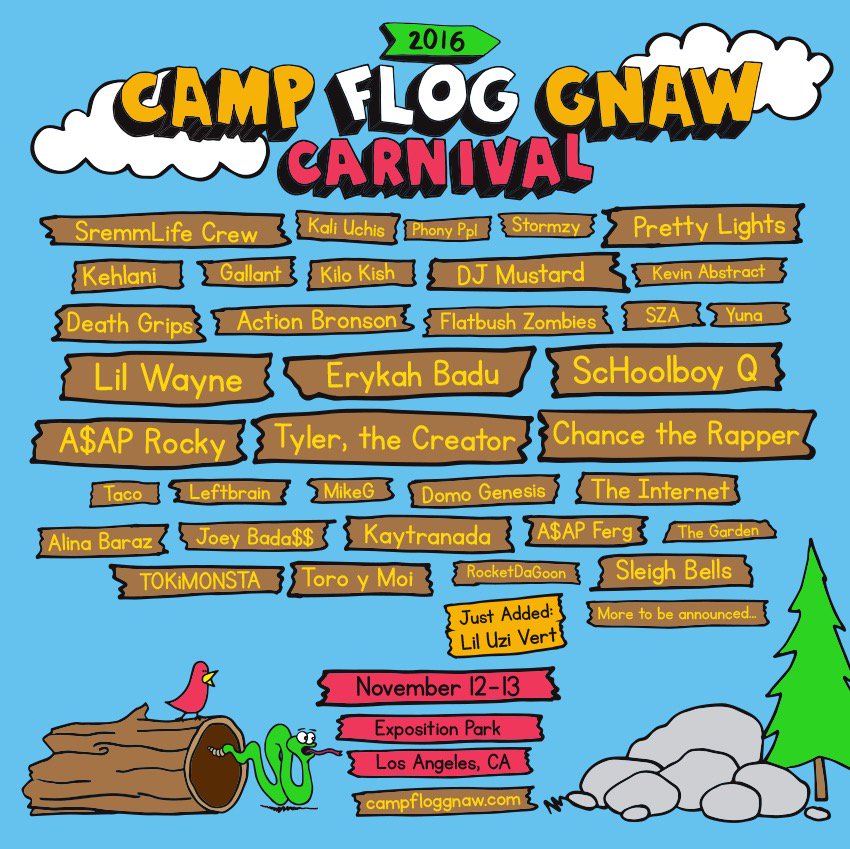 I've been a fan of the genius known as Tyler, the Creator and his movement for a few years now. Being a member of #FeliciaTheGoatHive is to know of the rapid success his festival has gained. The first few years of Camp Flog Gnaw only brought in a few hundred people and the acts were mostly under the Odd Future umbrella. Fast forward to 2016, Tyler has managed to bring in acts such as Chance the Rapper and Lil Wayne, along with an audience of 40,000! With all this being said it was an absolute MUST that I was one of those people in attendance, especially after seeing all the amazing artist that were recruited for Camp Flog Gnaw 2016.
My immediate thoughts after walking through the gates were "Gahhh Damn! There's so much shit going on here!" Literally every carnival ride and game you could think of was available to ride and play. DJ's were ACTUALLY spinning good music and not the repetitive cookie cutter shit we hear everywhere. And it was beautiful to see everyone dressed so uniqely.
This tweet by Tyler was displayed on both days of the concert, so people of all different walks of light came together to really just have a good time and listen to some jams. Often times we go to concerts with the intent of listening to our favorite artist but we don't get to fully enjoy the experience. We get lost with letting our followers on social media know where we are and how they should envy us (don't lie we all do it); Surprisingly there were a few times during this festival where people were actually getting lost in the music and not caring so much about capturing it for their timeline or story.
My top 3 acts of the festival had to be Anderson Paak, Erykah Badu, and Tyler for all different reasons. Anderson Paak has been on a hell of a run this year and I believe it's mainly because of the feel good groove he adds to all his songs, such as 'Am I wrong', 'Put me Thru', and 'Lite Weight' which were certainly on display as people lost their cool, dancing like nobody was watching.
Right after Paak followed the Unicorn.. AKA Fat Belly Bella.. AKA Ms. Erykah Badu; I'm gonna admit that at first I really wanted to see Rae Sremmurd instead who was flagrantly booked for the same showtime as Badu, but after some convincing from my cousin, I'm glad that I stuck around for her. In one word Erykah is majestic AF! Not only is she a great singer but she is amazing at controlling the crowd and really setting the vibe for her set. Midway through her set she actually picked up an MPC and started DJ'ing, throwing me for a surprise but it was great! She never lost the crowd.
Lastly Tyler had everything from Comedy, lyrics you might not want your grandmother to hear, to an actual motivational message at the end of his set. Tyler did a medley of all his favorite/popular songs and really went in no sort of tempo or mood but somehow it all still flowed together. The most memorable example of this was when he switched from the chorus of 'Fucking Young' which sounds like audible heaven immediately into the pits of hell with 'Yonkers' which is the song that really put Tyler at the forefront of the music scene. For those who don't listen to his music, his last album had a very strong theme of following your dreams and he made sure to close out his show with that same message. In summary the message was directed to young black kids to never listen to the naysayers and the "powers"that be. Camp Flog Gnaw started out as an idea in a notebook 5 years ago and now it's a headline music festival with almost 100 thousand attendees… "Find your Wings"
Did you make it to the show? Sound off in the comment section below and let the streets know what's up!
-Lando